Central Air Conditioning in Outer Banks
Central Air Conditioning Repair & Installation in Nags Head, Kitty Hawk, Corolla, Kill Devil Hills, NC and Nearby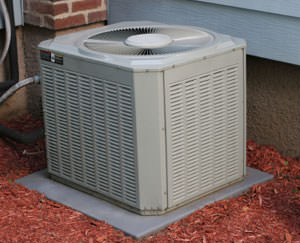 A split system. A conventional central air-conditioning system consists of an outdoor unit and an indoor unit, connected by pipes that carry a refrigerant compound.
A central air conditioning system relies on a refrigerant to "pump" heat from inside your house to outside. When the refrigerant compound is allowed to expand and change from a liquid into a vapor, it gives up a great deal of heat -- just like perspiration does when it evaporates from your skin. The evaporator coil in the HVAC system is cooled by this phase change. A blower in your system's air handler forces warm interior air through the evaporator, cooling it before it enters the ducts that distribute the air throughout the house.
If your central air conditioning system is more than 12 years old, replacing it with an ENERGY STAR® qualified model could cut your cooling costs by 30%. A NO Dealers can provide a air conditioning estimate for replacing an old, inefficient central air conditioning system with advanced equipment, found in a new air conditioning system, that will save energy and improve interior comfort.
A NO Dealers repairs and services central air conditioners in Kitty Hawk, Nags Head, Kill Devil Hills, Corolla, Salvo, Waves, Aydlett, Grandy, Mamie, Sanderling, and other nearby locations.
Many homes with central air conditioning have a standard "split" system —an outdoor unit that rests on a concrete pad, and a separate indoor unit that's connected to the ductwork system.
The interior part of a central air conditioning system will include a drain line for the moisture that condenses out of the interior air as it is cooled.
The heat pump cycle can be made to work in reverse, providing heat to interior spaces rather than cooling. When hot weather ends and the heating season begins, a dual-mode heat pump can reverse the refrigerant cycle and begin to warm the air that is blown through your ductwork system. Heat pump systems that supply heating and cooling work best in climates with mild winters.
Start Saving Energy and Money with an Air Conditioning Repair or Upgrade.
A NO Dealers services and repairs central air conditioners in Kill Devil Hills, Corolla, Kitty Hawk, Nags Head, Avon, Colington, East Lake, Frisca, Roanoke Island, Rodanthe, and other nearby locations.
Call or contact us online to schedule a home inspection and air conditioning repair estimate.
Looking for a price? Get a no cost, no obligation free estimate.